In this mailing:
by Burak Bekdil • October 30, 2014 at 5:00 am
Until Jerusalem is the capital of a Palestinian state and Israel is pushed back to its pre-1967 borders, it will be "halal" for Erdogan to blame Israel for global warming, the Ebola virus, starvation in Africa and every other misfortune the world faces.
On the press freedoms index 2014 of Reporters without Borders, Turkey ranks an embarrassing 154th, a score worse than Burundi, Myanmar, Ethiopia, Bangladesh, Cambodia, Afghanistan, Libya, Uganda and Kyrgyzstan, among others. Once again, Erdogan corrupted facts and figures in order to bash Israel.
Holy struggle against Israel is a prerequisite for Erdogan's pro-Hamas Islamism, and the cold war and Erdogan's explosive rhetoric around it have yielded a treasure-trove of votes in a country that champions anti-Semitism.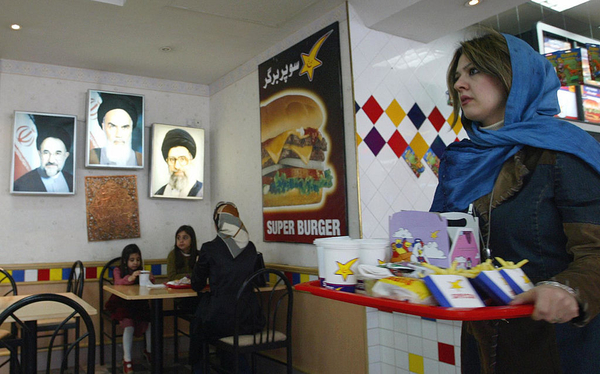 Turkey's then Prime Minister (now President) Recep Tayyip Erdogan at a 2009 a panel in Davos, Switzerland, tells Israel's then President Shimon Peres, "when it comes to killing, you know well how to kill."
"The Jewish lobby has lost much of its mythical power. Our prime minister's rhetoric and actions have largely caused this. The way he [Erdogan] walked out of the Davos meeting [in 2009] has substantially tarnished Israel's regional charisma. Despite all that, Israel has been unable to harm Turkey." This quote was from former senior diplomat and member of parliament Volkan Bozkir, of Turkey's ruling Justice and Development Party [AKP], in an interview with the daily Hurriyet on March 18, 2013. In Prime Minister Ahmet Davutoglu's mini-cabinet reshuffle last month, Bozkir became Turkey's European Union Minister and chief negotiator with the club for Turkish membership.
by Malcolm Lowe • October 30, 2014 at 4:00 am
The depredations of the "Islamic State" have given Iranians the opportunity to restore a dominance that they enjoyed intermittently until the Arabs conquered them. Only the well-justified Western fear of Iranian nuclear missiles stands in their way.
The negotiating stance of the P5+1 should be that to grant Iran a leading role in Iraq and Syria is to do Iran a massive favor and must presuppose the total elimination of the centrifuges and missiles.
Any Iranian schoolchild knows that Cyrus the Great created -- in barely a decade -- a Persian Empire that encompassed most of the Middle East, including present-day Turkey. His son added Egypt and part of Libya. "What's more," the Iranian child will proudly add, "I'm still speaking the language of Cyrus!"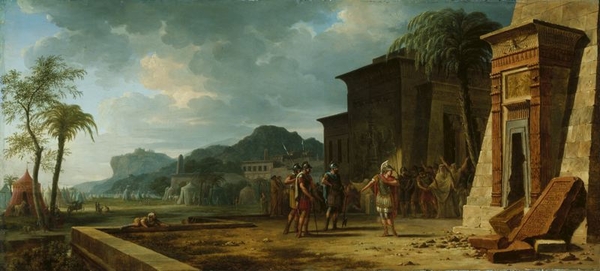 "Alexander at the Tomb of Cyrus the Great," oil on canvas (1796) by Pierre-Henri de Valenciennes. (Image source: Wikimedia Commons)
For many months now, the so-called P5+1 countries have been negotiating with Iran over the latter's nuclear program. The endless futile negotiations over how many centrifuges and how fast they should spin and for how long – have lost their way. Maybe the P5+1 (the permanent members of the UN Security Council plus Germany) should try a radically new approach.
Junk your entire nuclear program and hand over all your intercontinental missiles, they could tell Iran. Just get rid of the lot, like Assad who junked his chemical weapons. We were going to give him the Gaddafi treatment, but now he sits safely in power in Damascus. So just eliminate your foolish threat to ourselves and we shall gratefully watch from afar while you rebuild the empire of Cyrus.