| | |
| --- | --- |
| | |
In this mailing:
by Douglas Murray • January 16, 2017 at 5:00 am
When just about every other magazine in the free world fails to uphold the values of free speech and the right to caricature and offend, who could expect a group of cartoonists and writers who have already paid such a high price to keep holding the line of such freedoms single-handed?

Most of the people who said they cared about the right to say what they wanted when they wanted, were willing to walk the walk -- to walk through Paris with a pencil in the air. Or they were willing to talk the talk, proclaiming "Je Suis Charlie." But almost no one really meant it.

If President Hollande and Chancellor Merkel had really believed in standing up for freedom of expression, then instead of walking arm-in-arm through Paris together with such an inappropriate figure as Palestinian leader Mahmoud Abbas, they would have held up covers of Charlie Hebdo and said: "This is what a free society looks like and this is what we back: everyone, political leaders, gods, prophets, the lot can be satirised, and if you do not like it then you should hop off to whatever unenlightened hell-hole you dream of."
The entire world press has internalised what happened at Charlie Hebdo and instead of standing united, has decided never to risk something like that ever happening to them again.

For the last two years, we have learned for certain that any such tolerance is a one-way street. This new submission to Islamist terrorism is possibly why, in 2016, when an athlete with no involvement in politics, religion or satire was caught doing something that might have been seen as less than fully respectful of Islam, there was no one around to defend him.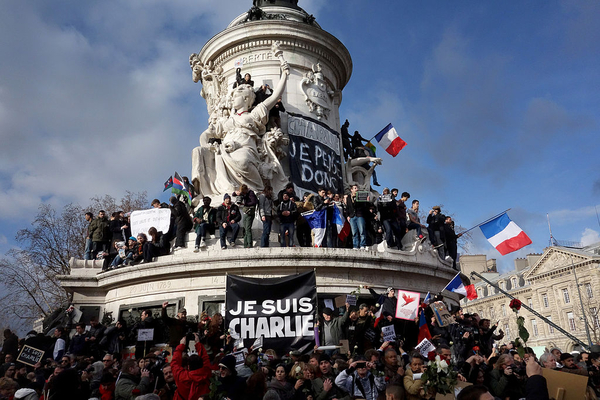 A Paris rally on January 11, 2015, after the Charlie Hebdo attack, featuring "Je Suis Charlie" signs. (Image source: Olivier Ortelpa/Wikimedia Commons)
The 7th of this month marked two years to the day since two gunmen walked into the offices of the satirical magazine Charlie Hebdo in Paris and murdered twelve people. This period also therefore marks the second anniversary of the period of about an hour during which much of the free world proclaimed itself to be "Charlie" and attempted, by walking through the street, standing for moments of silence or re-tweeting the hashtag "Je Suis Charlie" to show the whole world that freedom cannot be suppressed and that the pen is mightier than the Kalashnikov.
by Malcolm Lowe • January 16, 2017 at 4:00 am
"Illegality in international law" applies neither to the Israeli settlements that existed prior to Oslo II nor to any continued subsequent Israeli building that was confined to the official boundaries of those settlements (including Jerusalem in its entirety) on the day when Oslo II was signed, on September 28, 1995.

In negotiations over the final status, on the other hand, the Palestinians are not excluded from demanding a total Israeli withdrawal to the ceasefire lines of 1949, but Israel is likewise not excluded from demanding the retention not merely of the settlements but also of any other part of the Mandatory Palestine of 1947.

Almost all of Israel's settlement activity has not been illegal. Israel's Supreme Court has been vigilant in forbidding any violations.

In practice, no final status can be achieved unless both Parties abandon their claims to the whole former territory of the British Mandate, accept each other's minimal existential needs, and acknowledge the long-established current realities.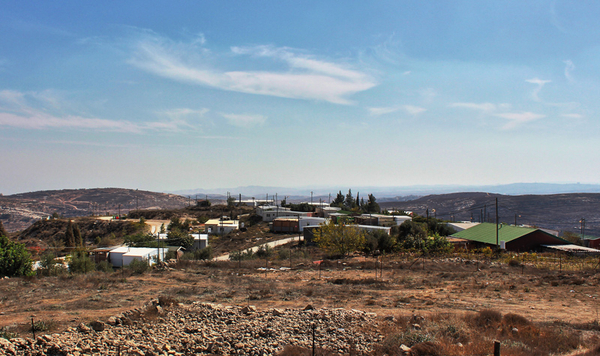 The outpost settlement of Amona. (Image source: Yair Aronshtam/Wikimedia Commons)
In a familiar fable ascribed to Aesop, a shepherd boy finds fun in making all the villagers run out in alarm by crying "Wolf!" After this happens several times, the villagers ignore him, so when a wolf really appears, it can devour the sheep undisturbed.
A similar result was the consequence of the international attitude to the settlements that Israeli governments created in the so-called "West Bank" after the Six Day War of 1967. Foreign ministries around the world would always brand any Israeli plan to add a few more houses to some settlement "a violation of international law," but Israel quietly ignored such statements and their authors did nothing more about them.
14 East 60 St., Suite 1001, New York, NY 10022